How to upload a video to Cloud Engine?
Cloud Engine
This is our web-based platform to upload your videos from everywhere. This is where the automatic detection happens.

You'll have different amount of minutes to be processed from your videos to be uploaded, so they can count with AI technology and add graphics in just a few clicks.
Play desktop software
This is the desktop application that comes with every plan each user has (Mac and Windows supported).

From here, you will be able to manage all your videos uploaded into the Cloud Engine and all the video playlists that you'll create.
Step 1: How to upload a video to Cloud website?
Go to cloud.metrica-sports.com
Log into your account.
Click on the "Add" icon at the bottom to create a new video project: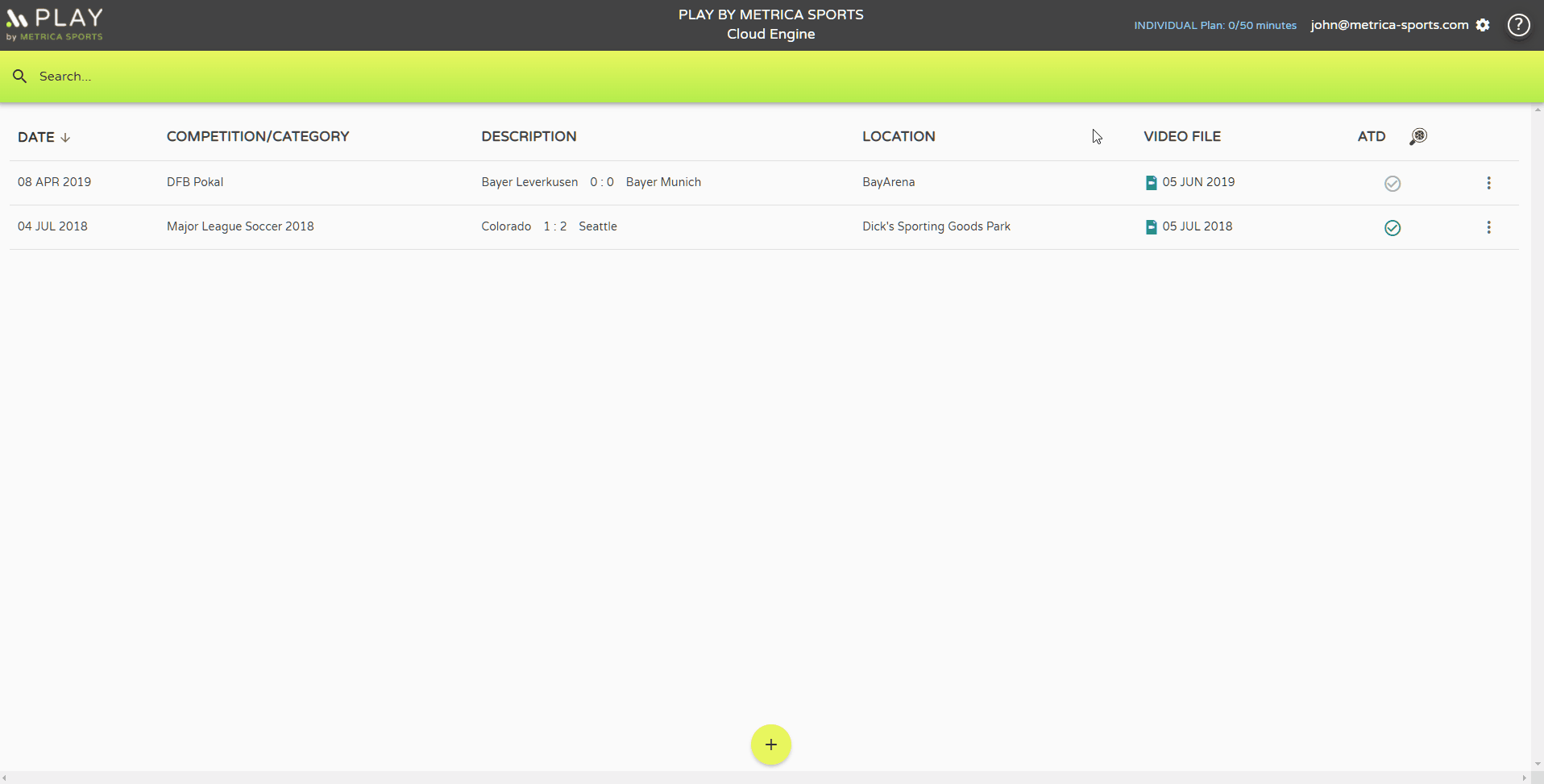 Video Project Settings:
There are two types of video projects: Game and Single. Choose one, fill in the details and click Next.
Examples of Single Video Project would be for practice, training videos, short game clips, or a whole playlist in one video.
Upload and Detections:
1) Select a video file from your local drive.
2) Is the video file a playlist? Then select YES. This will apply Clip Detection process on your video and will improve Automatic Detection.
3) Is the video file a football/soccer wide-angle or TV broadcast? Then select YES. If the video is not from football/soccer, or is not recorded from the side of the pitch, please select NO, otherwise this could cause inconveniences in Play.
4) Select if you want to process Automated Tracking Data (ATD). These processes will allow adding visualizations automatically in Play desktop app later on. Then, click Next.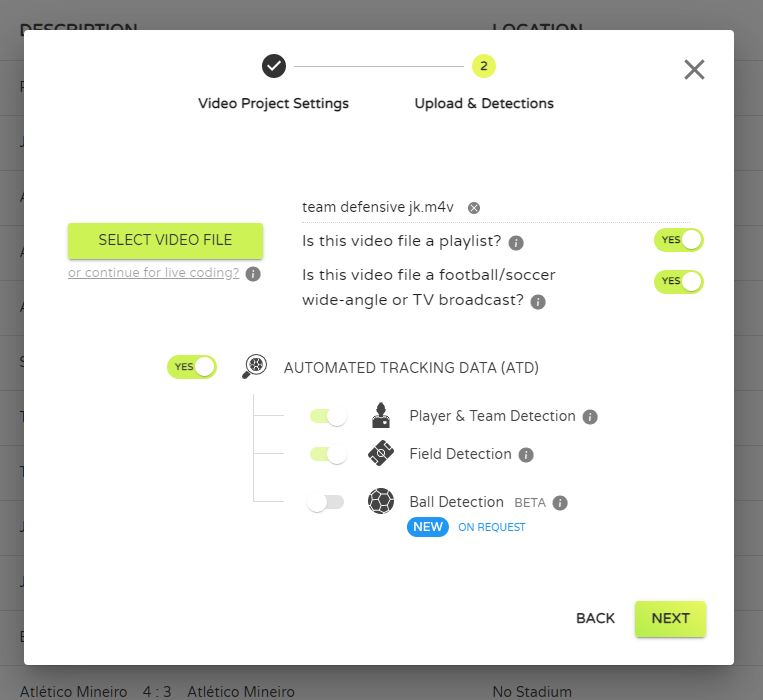 Once the video upload is complete, ATD will start automatically.
When ATD process is complete, You'll receive an email notification.
What is a Video Project?
There are two types of video projects: game video and single videos. If I choose Single Video and click Next, I can enter a video description, competition, place, and date. Single videos are generally used for practice or training videos, or for short game clips.
If I want to upload an entire game video, I choose Game Video Project. The fields for game videos are a bit different: I can list home and away teams, scores for both teams, competition, place, and date.
Why the Video Project appears on top of the list with its date in a wrong order?
Now I'll click Create. The game appears at the top of the project list, with the "new" indicator, even though its date isn't in the correct order. To reset by order I can click the Date header to rearrange in ascending or descending order.
How can I close notification messages within Cloud?
Each time I make any change to my project list, such as adding a project or uploading a video, I get a notification on the lower right area of Cloud, which I can remove by clicking on it. I have more than one notification, a 'Clear All' button will appear below them.
More options for Video Projects on Cloud
Clicking the three-dot icon for a project opens a menu in which I can upload the video, cancel an upload in progress, download a video that's already uploaded, delete a video or delete the entire project, or edit project details.
After creating a Video Project, how can I upload a video?
To add the game video, I can use this Upload Video link, or click Ready to Upload. Browse to find the video, and click Open.
How do I know what's the filename of an specific Video Project on Cloud?
I can see the upload progress, and when finished, the upload date appears in the list. I can see the video name when I hover on the date.
What is the Tracking column on Cloud?
Once the upload is complete, the tracking starts automatically. Tracking is the process that will enable me later to go to Play and add visualizations.
Email notifications after tracking process is completed
By default, You'll receive an email when the tracking is completed. I can change this and other settings by clicking the Gear icon next to my email and choosing Settings. Here I can change my email, create a new password, or turn off email notifications.