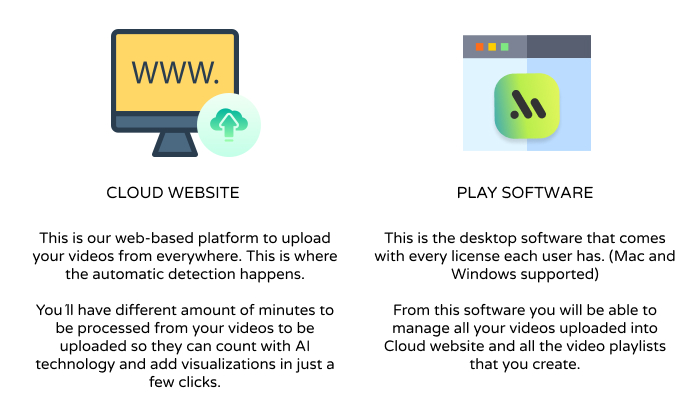 Step 1: How to upload a video to Cloud website?
Go to cloud.metrica-sports.com
Log into your account.
Click on the "Add" icon at the bottom to create a new video project:
Video Project Settings: There are two types of video projects: Game and Single. Choose one, fill in the details and click Next.
Examples of Single Video Project would be for practice, training videos, short game clips, or a whole playlist in one video.
Upload and Detections: Select a video file and the Automatic Detection processes that you want to execute. These processes will allow to add visualizations automatically in Play desktop app later on. Then, click Next.
Once the video upload is complete, the Automatic Detection processes will start automatically.
When an Automatic Detection process is complete, You'll receive an email notification.
Step 2: Create a Workspace. Download the tracking data in Play
When Automatic Detection process has finished, you´ll get an email notification. Then you´re ready to go to Play.
Open Play app in your computer.
Create a workspace following these steps:
Import the Video Project with the tracking data from Cloud to Play:
Create a Playlist by clicking the "Add" icon:
Then type a playlist name and press Enter.
Play the video.
When you want to save a moment that just occurred as a clip, pause the video after the moment is complete. Then click on the "Save event/s on selected playlist" icon at the bottom right.
By default, a video cut contains the 10 seconds leading up to the current point on the video.
That's it! You can now Add Visualizations to your playlists the same way you did on the Tour.