Step 1: Create a Workspace.
Open Play app in your computer.
Create a workspace following these steps:
Step 2: Add a video project.
In the top left corner, the Video Manager module will contain all of the video projects for the workspace.
Now I'll show how to create a Video Project if I don't have access to Cloud. To do this, I need to have all of the necessary files on the same computer that's running Play.
I'll click the Add icon to create a new workspace, browse to where I want to save the workspace, and assign a workspace name. Now, in the Video Manager module, I'll click the Add icon to create a local video project:
The first icon below the video project name is for the video itself, and an X means the video itself isn't yet loaded. After clicking this icon, I can choose the second option "Link Video from Local Drive..." link the video on my computer. After loading, when I click the video project again, the video appears in the Video Canvas.
I can play or pause the video, change speed, or pick a point along the timeline.
Step 3: Create a Playlist.
Create a Playlist by clicking the "Add" icon:
Then type a playlist name and press Enter.
Play the video.
When you want to save a moment that just occurred as a clip, pause the video after the moment is complete. Then click on the "Save event/s on selected playlist" icon at the bottom right.
By default, a video cut contains the 10 seconds leading up to the current point on the video.
Step 4: Add Visualizations to your Playlists.
Choose a clip that you want to add visualizations and click on the Annotations Module icon: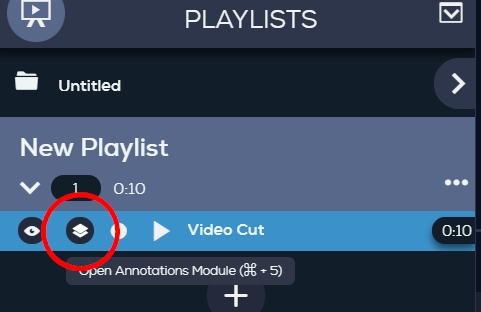 Adding Player Visualizations:
In the Annotations Module for this video clip, I'll click the Add icon on the needle and choose a Player Visualization, like ID: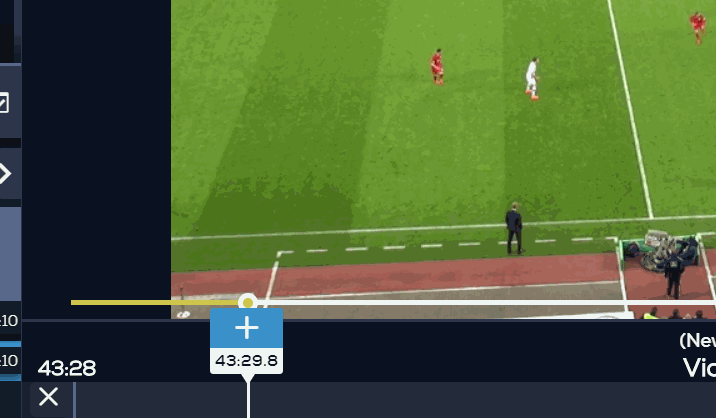 I'll select the player, and I can edit the player's name and number. I can also add a ring or a spotlight, and set its color.
That's it!